https://youtu.be/BLtVBT61DTw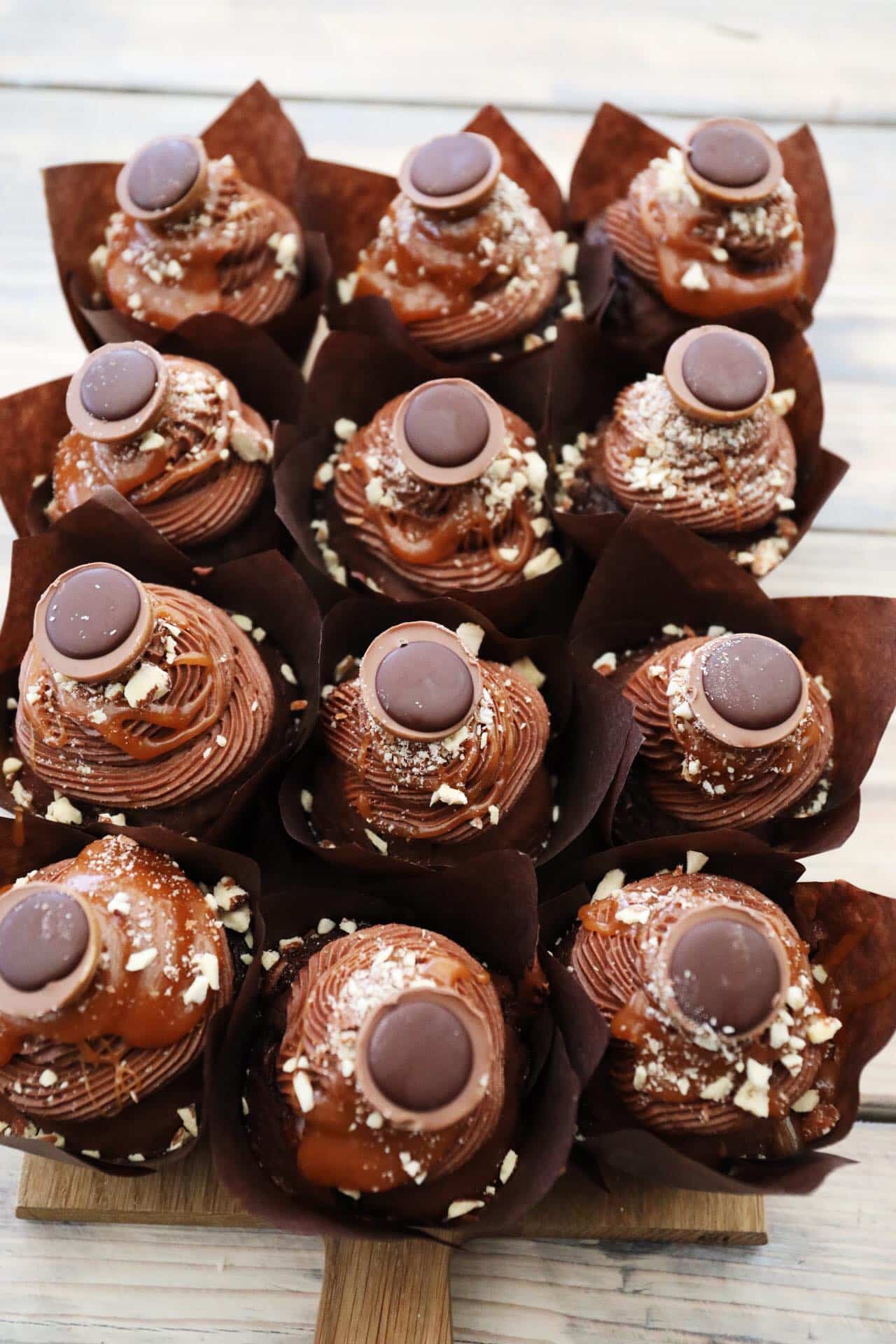 Chocolate cupcakes with Toffifee
Ingredients
Chocolate cupcakes (about 12 large cupcakes):
Chocolate frosting:
Caramel Sauce:
For decoration:
Instructions
Chocolate cupcakes (about 12 large cupcakes):
Turn on the oven at 200 degrees. Mix flour, cocoa powder, soda and salt together in a bowl. In another bowl, egg, sugar, butter and butter milk are whipped until it becomes frothy. Add the dry ingredients and whisk it well. Add the chocolate. Put the cupcake papers in a metal mold for muffins. Distribute the dough into the molds. Bake the cakes for approx. 18-20 minutes. Let them cool off.
Chocolate frosting:
Melt the chocolate and let it cool to room temperature. Whip butter and sugar together. Add the chocolate a little bit of access. Whip until it reaches a thick and soft consistency. Bring the frosting into a spray bag. 
Caramel Sauce:
Bring cream, syrup and sugar in a thickened pot. Let it boil. When boiling, slightly heat the heat (it should still boil a bit and bubble). Stir in the pan for approx. 10 minutes until the mass gets thicker. Add butter and stir well until it turns into a smooth and thick caramel sauce. Let it cool off. 
Decorate the cupcakes:
Pipe the frosting onto each cupcake. Sprinkle caramel sauce on and sprinkle with chopped hazelnuts. Finally add a Toffifee on top of each cupcake. Bon appetite!